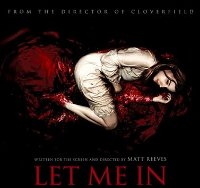 Da lunedì 13 dicembre 2010 è disponibile on line e in tutti i negozi la colonna sonora del film Let me In del regista Matt Reeves.
Il cd Let me In, distribuito da Varèse Sarabande, è composto da 28 soundtrack del premio Oscar Michael Giacchino, premiato per la colonna sonora di "Up" della Pixar.
Ecco qui la track list della colonna sonora di Let me In:
1. Hammertime
2. Los Alamos
3. Sins Of The Father
4. Peeping Owen
5. Bully Thy Name
6. The Back Seat Killer
7. The Blood Flood

8. The Asphalt Jungle Gym
9. At Your Disposal
10. Neighbors Of Love
11. First Date Jitters
12. Killer In-Stinks
13. Acid Test Dummy
14. Visitation Rights
15. New Day On An Old Lake
16. Polling For Owen
17. Owen Remember Thy Swashing Blow
18. Blood By Any Other Name
19. Regarding Evil
20. Let Me Out
21. Virginia Territory
22. Invitation Only
23. Dread On Arrival
24. Parting Sorrows
25. The Weakest Goes To The Pool
26. Trained And Steady
27. End Credits – Let Me In
28. Trained And Steady
Data di uscita: 13 dicembre 2010
Compositore: Michael Giacchino
Etichetta: Varèse Sarabande
Supporto: CD Audio
Genere: Colonne sonore
Prezzo di listino € 19,50
Su internet il cd Let me In è acquistabile direttamente on-line a prezzo speciale su IBS.