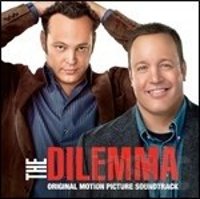 La colonna sonora del film "Il dilemma" è già disponibile dall'08 Marzo su CD, mentre se volete leggere la nostra recensione in anteprima cliccate QUI.
Qui di seguito, invece, troverete la track list composta da 12 brani del film diretto da Ron Howard:
1. Chelsea Dagger
2. Detroit Rock City
3. Just Saying
4. She's Long Gone
5. Cosmic Egg

6. Bomb
7. Ready, Aim, Fire
8. Neon Invasion
9. One Week Of Danger
10. Don't Do It
11. Everything Trying
12. Sticks and Stones
Data uscita del cd: 8 marzo 2011
Titolo: The Dilemma
Etichetta: Atlantic
N. dischi: 1
Supporto: CD Audio
Genere: Colonne sonore
Prezzo di listino: € 19,50
Ricordiamo che la colonna sonora "Il dilemma" sarà disponibile direttamente on-line a prezzo speciale su IBS.