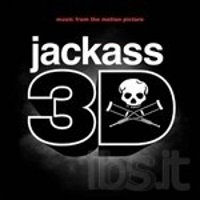 Ecco a voi la compilation "Jackass 3D" uscita in concomitanza con il film del regista Jeff Tremaine.
Il cd "Jackass 3D" contiene una serie di hit scelte appositamente per musicare le imprese degli stuntman più fuori di testa della tv. Buon ascolto!
1. Corona [Jackass Opera Mix] – Squeak E. Clean
2. Kids Are Back, The – Twisted Sister
3. If You're Gonna Be Dumb, You Gotta Be Tough – Karen O
4. Memories – Weezer
5. Party In My Pants – Roger Alan Wade
6. Invisible Man – Smut Peddlers
7. I'm Shakin' – The Blasters
8. I Got Your Number – Cock Sparrer
9. You Can't Roller Skate In a Buffalo Herd – Roger Miller
10. Been Blown To Shreds – Sassafras
11. Brand New Key – Melanie
12. Alcohol – Gang Green
13. Afterworld – CKY
"Jackass 3D" è disponibile in tutti i negozi e on line a prezzo speciale su www.ibs.it.