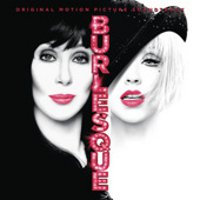 Burlesque è il nuovo film diretto da Steven Antin: un musical contemporaneo interpretato da Christina Aguilera, al suo debutto cinematografico da protagonista, affiancata da Cher, Cam Gigandet e Stanley Tucci. Il film uscirà nelle nostre sale venerdì 11 Febbraio.
La colonna sonora del film contiene 8 brani intepretati da Christina Aguilera: 4 brani inediti prodotti da Danja, Claude Kelly,Tricky Stewart e SIA, oltre a 4 remake di classici. Cher ha registrato due brani, tra cui la ballata You Haven't Seen The Last of Me scritta da Diane Warren. Una colonna sonora che riunisce melodie ispirate al film creando un supporto alla pellicola unico nel suo repertorio.
Qui di seguito troverete le 10 tracce della colonna sonora ufficiale del film Burlesque:

01 Something's Got A Hold On Me – Christina Aguilera
02 Welcome To Burlesque – Cher
03 Tough Lover – Christina Aguilera
04 But I Am A Good Girl – Christina Aguilera
05 Guy What Takes His Time – Christina Aguilera
06 Express – Christina Aguilera
07 You Haven't Seen The Last Of Me – Cher
08 Bound To You – Christina Aguilera
09 Show Me How You Burlesque – Christina Aguilera
10 The Beautiful People (from Burlesque) – Christina Aguilera
Titolo: Burlesque
Artista: Christina Aguilera, Cher
Etichetta: RCA
Supporto: CD AudioDisponibile anche in MP3
Genere: Pop e Rock Internazionale – Colonne sonore
Prezzo di listino: € 18,90
Ricordiamo che la colonna sonora del film Burlesque è acquistabile direttamente on-line a prezzo speciale su IBS.