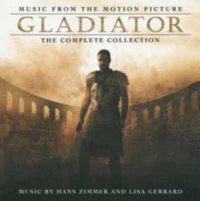 E' uscita il 25 Gennaio "Gladiator: The Complete Collection", un doppio CD a prezzo speciale in edizione limitata che, per la prima volta, raccoglie tutte le musiche originali del celebre film di Ridely Scott composte dal grande Hanz Zimmer e Lisa Gerrard.
Un edizione speciale per celebrare il Doppio Disco di Platino ottenuto da una delle colonne sonore più belle degli ultimi anni.
Qui di seguito la colonna sonora del film "Il Gladiatore":

CD 1:
1.Progeny
2.The Wheat
3.The Battle
4.Earth
5.Sorrow
6.To Zucchabar
7.Patricide
8.The Emperor is Dead
9.The Might of Rome
10.Strength and Honor
11.Reunion
12.Slaves to Rome
13.Barbarian Horde
14.Am I Not Merciful?
15.Elysium
16.Honor Him
17.Now We Are Free
CD 2:
1.Duduk of the Norht
2.Now We Are Free (Juba's Mix)
3.The Protector of Rome
4.Homecoming
5.The General Who Became a Slave
6.The Slave Who Become a Gladiator
7.Secret
8.Rome Is the Light
9.All That Remains
10.Maximus
11.Marrakesh Marketplace
12.The Gladiator Waltz
13.Figurines
14.The Mob
15.Busy Little Bee
16.Death Smiles At All Us
17.Not Yet
18.Now We Are Free (Maximus Mix)
Uscita: 25/01/20111
Artista: Lisa Gerrard
Compositore: Hans Zimmer
Etichetta: Decca
N. dischi 2
Supporto CD Audio
Genere Colonne sonore
Prezzo di listino: € 16,90
Ricordiamo che la colonna sonora "Gladiator: The Complete Collection" sarà disponibile direttamente on-line a prezzo speciale su IBS.