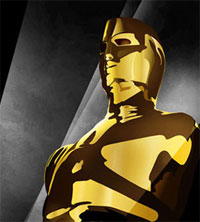 Annunciate le dieci pellicole che concorreranno per la categoria Miglior Film all'83ma edizione degli Oscar che si svolgerà il 27 Febbraio a Hollywood: si tratta dei seguenti film: The King's Speech, The kids are all right, Inception, The Fighter, Black Swan, 127 hours, The social network, Toy Story 3, True grit e Winter's Bone.
Il messicano Biutiful, il greco Dogtooth, il danese In a Better World, il canadese La donna che canta e l'algerino Hors la loi sono i cinque film candidati all'Oscar per il miglior film straniero.
Annette Bening per The Kids Are All Right, Nicole Kidman per Rabbit Hole, Jennifer Lawrence per Winter's Bone, Natalie Portman per The Black Swan e Michelle Williams per Blue Valentine sono le candidate all'Oscar come miglior attrice protagonista.