Svelata la lista di titoli che comporranno la lineup dei film in Concorso a questa 71esima edizione della Mostra Internazionale d'Arte Cinematografica di Venezia. 
Come previsto da un po' ci sarà il tanto atteso film di Inarritu "Birdman (or the Unexpected Virtue of Ignorance)", oltre ad altri grandi nomi come Andrei Konchalovsky e il suo "The Postman's White Nights" e David Gordon Green con "Manglehorn", i cui protagonisti Al Pacino e Holly Hunter.
Ci sono anche degli italiani a vedersela con questi nomi, Mario Martone con "Il giovane favoloso", film su Leopardi, Francesco Munzi con "Anime nere" e Saverio Costanzo con "Hungry Hearts".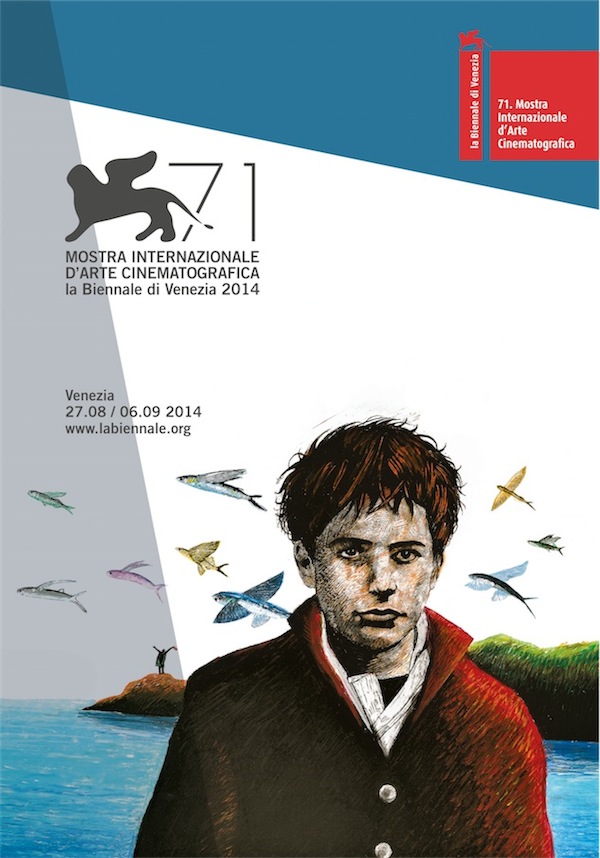 Ecco l'intera lineup dei film in Concorso:
FATIH AKIN – THE CUT
Germania, Francia, Italia, Russia, Canada, Polonia, Turchia, 138′
Tahar Rahim, Akin Gazi, Simon Abkarian, George Georgiou
ROY ANDERSSON – EN DUVA SATT PÅ EN GREN OCH FUNDERADE PÅ TILLVARON (A PIGEON SAT ON A BRANCH REFLECTING ON EXISTENCE)
Svezia, Germania, Norvegia, Francia, 101′
Holger Andersson, Nisse Vestblom
RAMIN BAHRANI – 99 HOMES
Usa, 112′
Andrew Garfield, Michael Shannon, Laura Dern, Noah Lomax
RAKHSHAN BANI E'TEMAD – GHESSEHA (TALES)
Iran, 88′
Golab Adineh, Farhad Aslani, Mohammadreza Forootan, Mehdi Hashemi
XAVIER BEAUVOIS – LA RANÇON DE LA GLOIRE
Francia, Belgio, Svizzera, 114′
Benoît Poelvoorde, Roschdy Zem, Séli Gmach, Chiara Mastroianni, Nadine Labaki
SAVERIO COSTANZO – HUNGRY HEARTS
Italia, 109′
Adam Driver, Alba Rohrwacher, Roberta Maxwell
ALIX DELAPORTE – LE DERNIER COUP DE MARTEAU
Francia, 82′
Romain Paul, Clotilde Hesme, Grégory Gadebois, Candela Peña, Tristán Ulloa
ABEL FERRARA – PASOLINI
Francia, Belgio, Italia, 86′
Willem Dafoe, Riccardo Scamarcio, Ninetto Davoli, Valerio Mastandrea, Maria de Medeiros, Adriana Asti
DAVID GORDON GREEN – MANGLEHORN
Usa, 97′
Al Pacino, Holly Hunter, Harmony Korine, Chris Messina
ALEJANDRO GONZÁLEZ IÑÁRRITU – BIRDMAN (OR THE UNEXPECTED VIRTUE OF IGNORANCE) [FILM D'APERTURA]
Usa, 119′
Michael Keaton, Zach Galifianakis, Edward Norton, Andrea Riseborough, Amy Ryan, Emma Stone, Naomi Watts
BENOÎT JACQUOT – 3 COEURS
Francia, 100′
Benoît Poelvoorde, Charlotte Gainsbourg, Chiara Mastroianni, Catherine Deneuve
ANDREI KONCHALOVSKY – BELYE NOCHI POCHTALONA ALEKSEYA TRYAPITSYNA (THE POSTMAN'S WHITE NIGHTS)
Russia, 90′
Aleksey Tryapitsyn, Irina Ermolova, Timur Bondarenko
MARIO MARTONE – IL GIOVANE FAVOLOSO
Italia, 137′
Elio Germano, Michele Riondino, Massimo Popolizio, Anna Mouglalis, Valerio Binasco, Isabella Ragonese
KAAN MÜJDECI – SIVAS
Turchia, 93′
Dogan Izci, Ezgi Ergin, Hasan Özdemir, Furkan Uyar
FRANCESCO MUNZI – ANIME NERE
Italia, Francia, 103′
Marco Leonardi, Peppino Mazzotta, Fabrizio Ferracane, Anna Ferruzzo, Barbora Bobulova
ANDREW NICCOL – GOOD KILL
Usa, 100′
Ethan Hawke, Bruce Greenwood, January Jones, Zoë Kravitz, Jake Abel
DAVID OELHOFFEN – LOIN DES HOMMES
Francia, 110′
Viggo Mortensen, Reda Kateb
JOSHUA OPPENHEIMER – THE LOOK OF SILENCE
Danimarca, Finlandia, Indonesia, Norvegia, Gran Bretagna, 98′
(documentario)
SHINYA TSUKAMOTO – NOBI (FIRES ON THE PLAIN)
Giappone, 87′
Shinya Tsukamoto, Yusaku Mori, Yuko Nakamura, Tatsuya Nakamura, Lily Franky
XIAOSHUAI WANG – CHUANGRU ZHE (RED AMNESIA)
Cina, 110′
Lü Zhong, Feng Yuanzheng, Amanda Qin, Qin Hao, Shi Liu